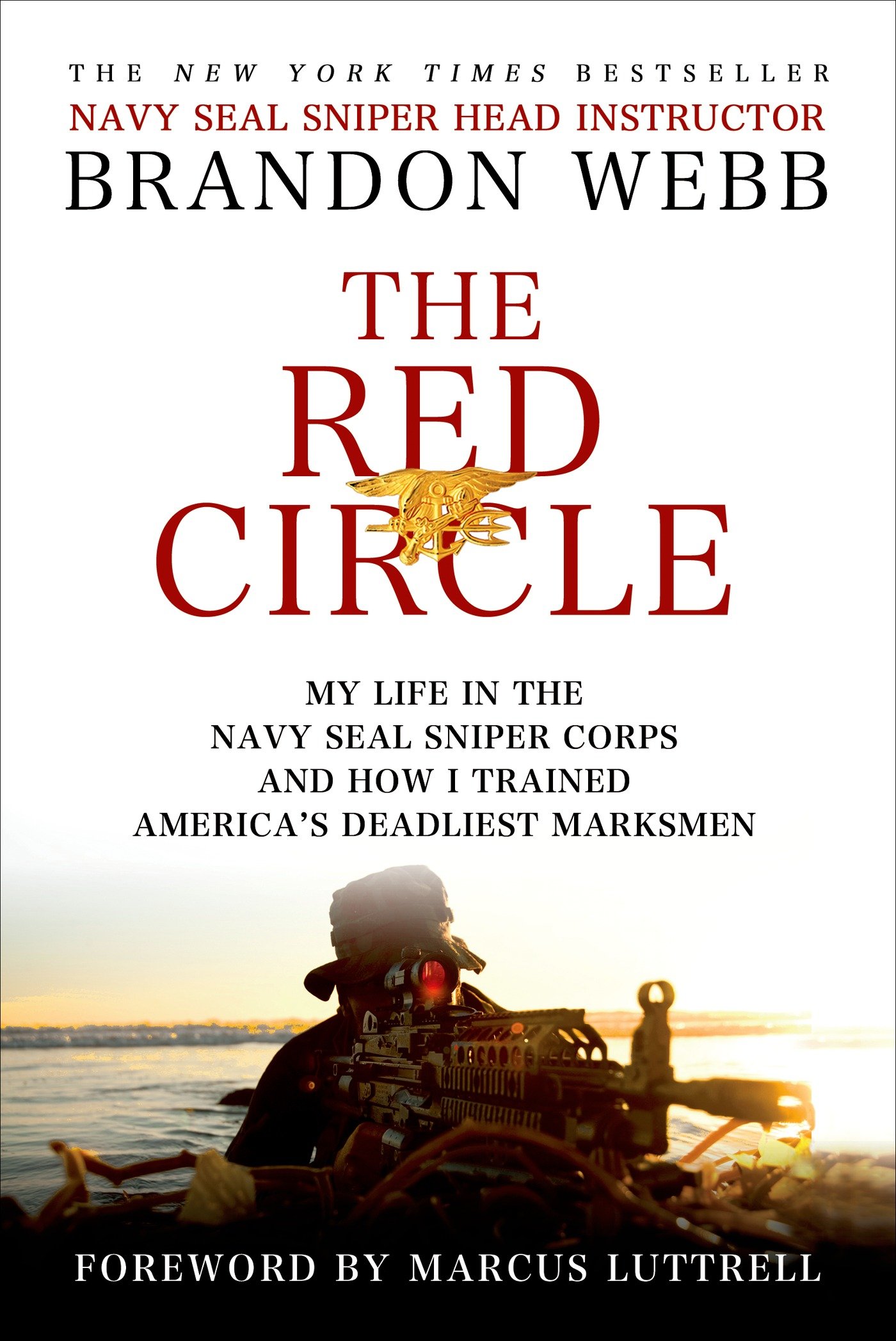 Buy on Amazon
Buy on B&N
BEFORE HE COULD FORGE A BAND OF ELITE WARRIORS… HE HAD TO BECOME ONE HIMSELF.
Brandon Webb's experiences in the world's most elite sniper corps are the stuff of legend. From his grueling years of training in Naval Special Operations to his combat tours in the Persian Gulf and Afghanistan, The Red Circle provides a rare and riveting look at the inner workings of the U.S. military through the eyes of a covert operations specialist.
Yet it is Webb's distinguished second career as a lead instructor for the shadowy "sniper cell" and Course Manager of the Navy SEAL Sniper Program that trained some of America's finest and deadliest warriors—including Marcus Luttrell and Chris Kyle—that makes his story so compelling. Luttrell credits Webb's training with his own survival during the ill-fated 2005 Operation Redwing in Afghanistan. Kyle went on to become the U.S. military's top marksman, with more than 150 confirmed kills.
From a candid chronicle of his student days, going through the sniper course himself, to his hair-raising close calls with Taliban and al Qaeda forces in the northern Afghanistan wilderness, to his vivid account of designing new sniper standards and training some of the most accomplished snipers of the twenty-first century, Webb provides a rare look at the making of the Special Operations warriors who are at the forefront of today's military.
Explosive, revealing, and intelligent, The Red Circle provides a uniquely personal glimpse into one of the most challenging and secretive military training courses in the world.
WHY WRITE A MEMOIR?
My desire to write The Red Circle was originally inspired by "The Last Lecture" by Randy Pausch and his desire to leave something behind of value for his family.
The Red Circle shares my personal story of encountering, and overcoming adversity in life. The book passes on valuable life lessons, examples of good leadership tools I learned during my time as a US Navy SEAL and raises awareness to the sacrifices made by the warriors and their families of the United States Special Operations Command (US SOCOM).
THE RED CIRCLE-A MEMOIR
The Red Circle is the true story of Brandon's experiences leading up to the US Navy SEAL Teams and his work as the US Naval Special Warfare (Navy SEAL) Sniper Course as the head instructor (Course Manager). Starting with his colorful childhood growing up in a seafaring family, Brandon's story continues through his grueling training at BUD/S (Basic Underwater Demolition/SEAL) and in Naval Special Operations. It takes us through his combat tours in the Persian Gulf and Afghanistan and his distinguished career designing new post-9/11 sniper training courses, to his employment with the operational branch of a three-letter US intelligence agency, concluding with his transition to the life of a private entrepreneur. In the process, the book provides a rare and personal look at the inner workings of the US military through the eyes of a US Navy SEAL.
At the age of 16, Brandon Webb had a fight with his dad that got him thrown out of the house—only in his case, "the house" happened to be a small boat anchored off Tahiti. As a teenager who lacked even a driver's license, negotiating the 6,000 miles back to California was the beginning of a journey that would ultimately lead to a distinguished career on the harrowing frontiers of post-modern warfare.
Surrounded by friends whose lives drifted between surfing and crystal meth, Brandon elected to join the Navy, where he trained initially as an Aircrew Search & Rescue Swimmer and eventually as a US Navy SEAL. Following the events of 9/11, he went on to manage the SEAL sniper course, designing new curricula and training a generation of SEAL graduates who became some of the most accomplished snipers of the 21st century. One of these includes Marcus Luttrell, New York Times best-selling author of Lone Survivor. In Lone Survivor, Luttrell credits Webb's training with his own survival during his ill-fated 2005 mission in Afghanistan as part of Operation Red Wing, which resulted in the single greatest death toll within the SEAL ranks.
Intimate and intelligent, candid and at times shocking, Navy SEAL Sniper opens a unique window into issues of peace and war, life and death, order and chaos in the 21st century. It also provides a uniquely personal glimpse into one of the most difficult military training courses in the world.
AUTOGRAPHED COPIES
Autographed copies are only available through The Red Circle Foundation, the SOFREP Team Room, and at exclusive speaking events.   -Brandon
PRAISE FOR "THE RED CIRCLE"
"Brandon's story hits center mass! If you want to know what makes up the DNA of a Navy SEAL and have a behind-the-scenes look at the best sniper program in the world, then hold 1 right for windand read The Red Circle."
— Chris Kyle, SEAL Team 3 Chief, sniper and bestselling author of American Sniper
"Another forceful statement from the Brotherhood of SEALs, Brandon Webb's The Red Circleillustrates why he wanted to be a SEAL, what it takes to be a SEAL, how you survive the life of a SEAL, and the value of mind over matter. A valuable read for anyone aspiring to reach goals that seem unattainable—in any walk of life."
— CDR Richard Marcinko, USN (Ret.), founding father and first commanding officer of SEAL Team Six, author of the #1 New York Times bestseller Rogue Warrior
"There are a lot of people out there who are alive today because of the efforts, skill, and dedication of Brandon and others like him. His training saved my life. What you're about to read is not just the making of a Navy SEAL sniper, but the story of one guy who went on to help shape the lives of hundreds of elite special forces warriors."
— Marcus Luttrell, author of the New York Times bestseller Lone Survivor
"The characters in this book are America's finest and they will remind you that freedom is not free: it has to be protected, and at great sacrifice to a select few at the tip of the spear. The Red Circle will also remind you that in life, sports, and business, you have a job to do. Brandon's story will compel you to get that job done and get it done right. I couldn't put it down."
— Kevin Kouzmanoff, Major League Baseball Player and former Third Baseman for the San Diego Padres.
"The story of today's Navy SEALs is Brandon Webb's to tell, and The Red Circle does it masterfully. This definitive work at once proves and explodes the myths behind Navy Special Warfare and the men who meet its challenges. Strap in for a wild ride."
— CDR Ward Carroll, USN (ret.), Editor of Military.com
"The Red Circle beautifully captures the author's introspection, humor, and lion-hearted daring. A riveting true-life adventure story, told with frankness and skill."