Get Your Seaplane Rating at Lake Como, Italy. Ciao! Welcome to Aero Club Como
on June 30, 2022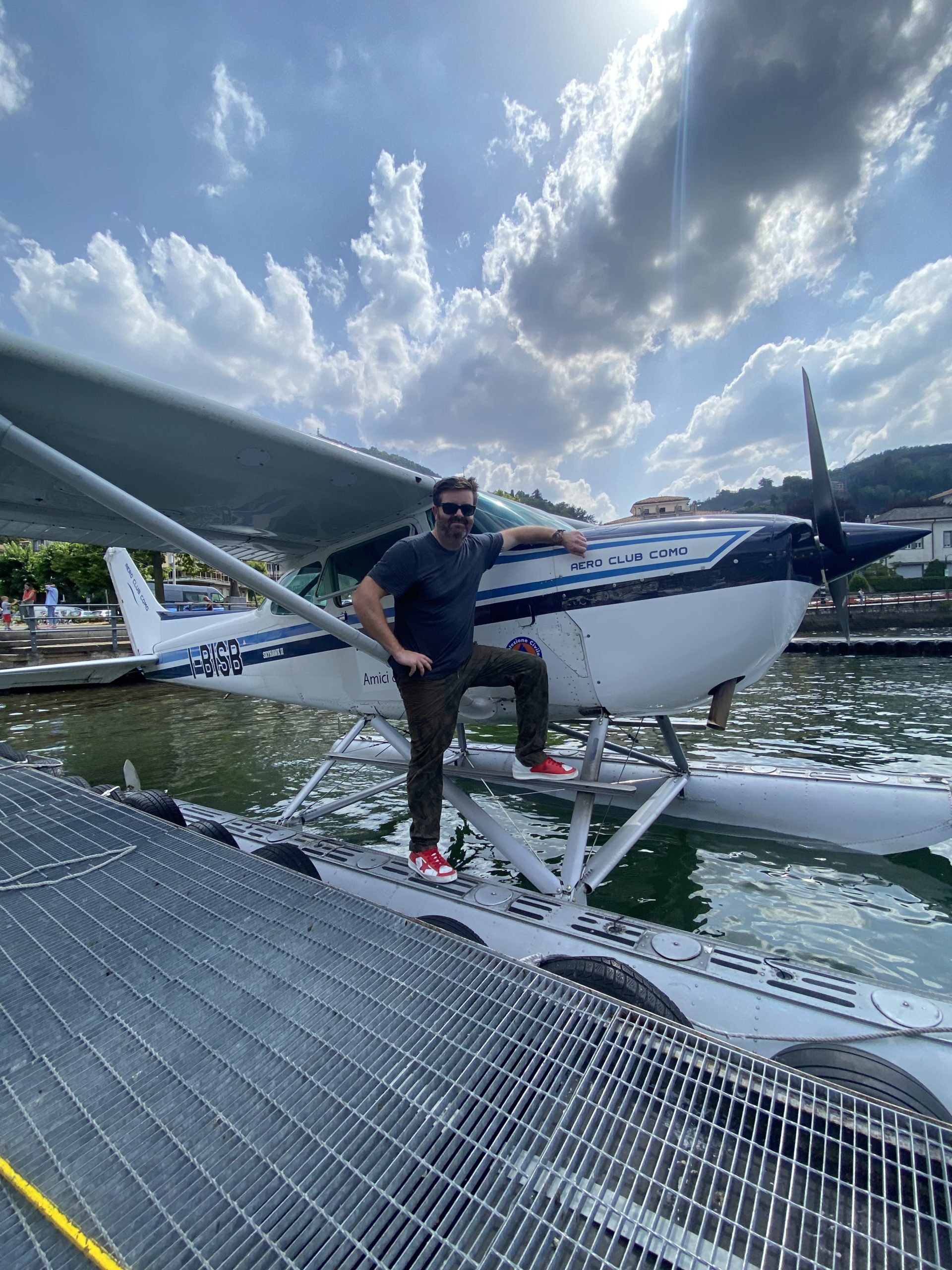 Get a seaplane rating in Italy? Really?
It may sound crazier than a Trump rally at Biden's pool house but I think it's the best option and I'm here to tell you why BUT, first a little about me.
I worked on a SCUBA boat as a kid and lived on my family's Ketch for five years. After becoming a Navy SEAL then getting my pilot's license it was only natural that I'd get the urge to combine my two passions (sea and air) and get my single seaplane rating.
But…where the hell to get it at? As most of you know all training is not created equal unfortunately, and just because someone is a great pilot does not make them a great instructor. 
So I began looking at options. 
I'm an 1100 hour instrument rated pilot but the majority of my flying is in warbirds these days, and mostly upside down. 
I've owned several Yaks (52 and 50), a TB-30, RV6A, RV8 and love a good taildragger but sold my RV8 because in the southeast where nasty cross winds are common it's not very practical or safe to own a tailwheel. 
I'm not what you'd consider a hard aerobatics guy, I just love the occasional loop or roll as I get from point to point. I used to fly air combat frequently with an incredible private group of guys in San Diego but my move to the east coast has limited my tail chase days. 
But, that group includes a Red Bull Air Race champion, space shuttle pilot, original 13 Top Gun Instructor,  several Top Gun graduates and combat aviators.  My kind of guys for sure.
The training I've received from these pilots (unusual attitude recover, formation, dog fighting) and the camaraderie has been a highlight of my time as a pilot and actually helped me in my own transition from the SEALs. 
The SEAL Teams don't have a great alumni network, we have an annual reunion but it's more of a toxic drunk fest and I stay away.
My new home is with these Gents.
2018 rolled around and I finally gave in and decided to get my wings wet with a single engine sea rating. 
After some extensive research I decided to get my training in lake Como, Italy. 
The most common question I get asked by fellow pilots is, "Why Italy and not Alaska?"
Honestly, the reason I chose Italy over Alaska, Florida or Arizona is that the training curriculum at the Aero Club Como was far superior and more like a military style syllabus than the others. 
It may sound great to learn from some crusty old Alaskan bush pilot but the reality is I wanted a solid foundation and didn't want a "seat of the pants" operation. 
The club on lake Como was the most professional choice in my opinion with the added benefit of better food, wine and culture. So I emailed the club, packed my bags, and was off to Milan and the short train ride to Como. 
I flew two flights a day in the 172 with straight floats (a far better trainer than the Husky), and got signed off by Francesco the chief pilot two weeks later. He even let me get checked out in the club 206 which not all pilots get to fly since it's the main revenue driver for the club's flight tour operation. 
The biggest difference in flying wheels versus floats? There's no brakes with floats…that engine starts and you start going!
Other little things that are interesting? It's good to have a little wind chop because the floats have less drag on the water in chop as opposed to glassy water.
The floats let in a small amount of water and you have to pump them during preflight.
Glassy landings are challenging and are flown the last part of the descent on instruments at a fixed descent speed to not get vertigo with the water's reflection.
Always pull the stick back and watch out for big boat wakes when taxiing or landing.
The freedom to land anywhere is amazing, as is the responsibility to monitor wind conditions.
Ready for take off? Line'er up pull up the water rudders and power on. Get the plane on step and let her fly off the water…what a great feeling!
These are just a few of the things that make flying seaplanes a bit more interesting.
Usually my day started with a morning espresso at the yacht club next door to club the seaplane ramp (you're admitted into the club with your seaplane membership), I'd have my first flight of the day. A short break for lunch, some remote work, back for an afternoon espresso, and off for a final evening flight of training.
Rinse and repeat.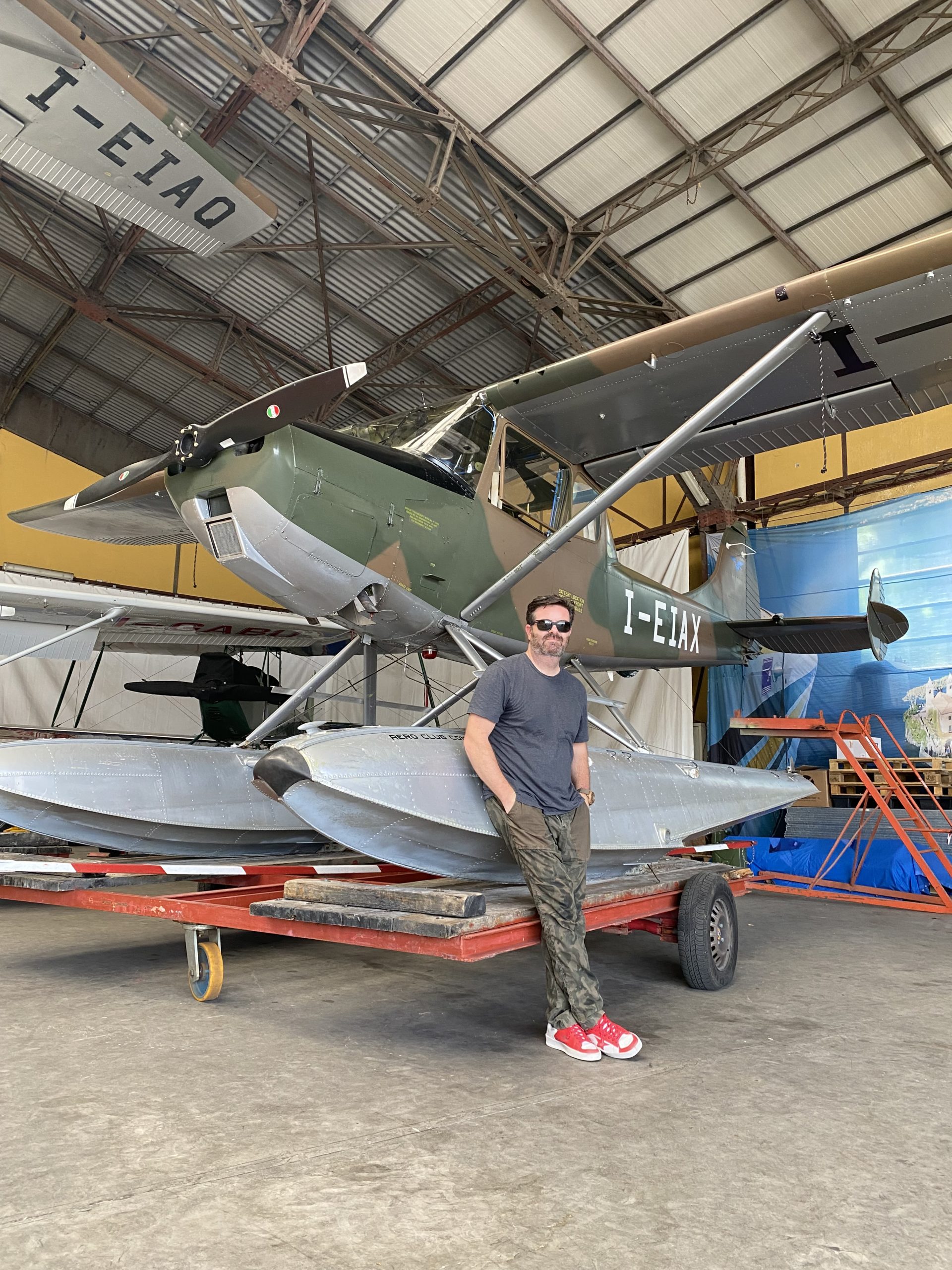 Photo: The Club's Bird Dog…what a great machine.
I made some incredible connections through the club with pilots from all over the world. Turkey, Switzerland, German, and the UK. It was an incredible experience.
Returning home to the east coast after two week of training I scheduled a check out flight in a Husky amphib and my FAA examiner the same day. 
Six landings on the Hudson river later and I had the rating. 
During the checkout flight both my instructor and examiner commented on how well I was trained. This was something I appreciated and it also validated my decision. 
If any of you pilots are considering the seaplane rating, Italy is an amazing option and one I'd highly recommend as with it you also become a member of the oldest flying club in the world, and the longest operating seaplane base. 
Aero Club Como is rich in history and community.
AND you're not going to have a hard sell bringing the other half to Italy for a few weeks while you knock out the core training as well. No easier hall pass! And Milan is a short train 40 minute train ride away for quick trips into the city to explore, although Como center is incredibly charming and robust enough to occupy you both. 
The Como Aero Club is the epitome of iconic and the take-offs, landings, and flights are some of the most scenic I've had. 
Now that I'm a member I've flown the club 206 and the Bird Dog on floats, and looking forward to getting checked out in the amphibious Super Cub both, all amazing machines.
I make the annual trip to Como at least once a year to fly on the lake with family and friends. It's one of the most enjoyable flying experiences I've had.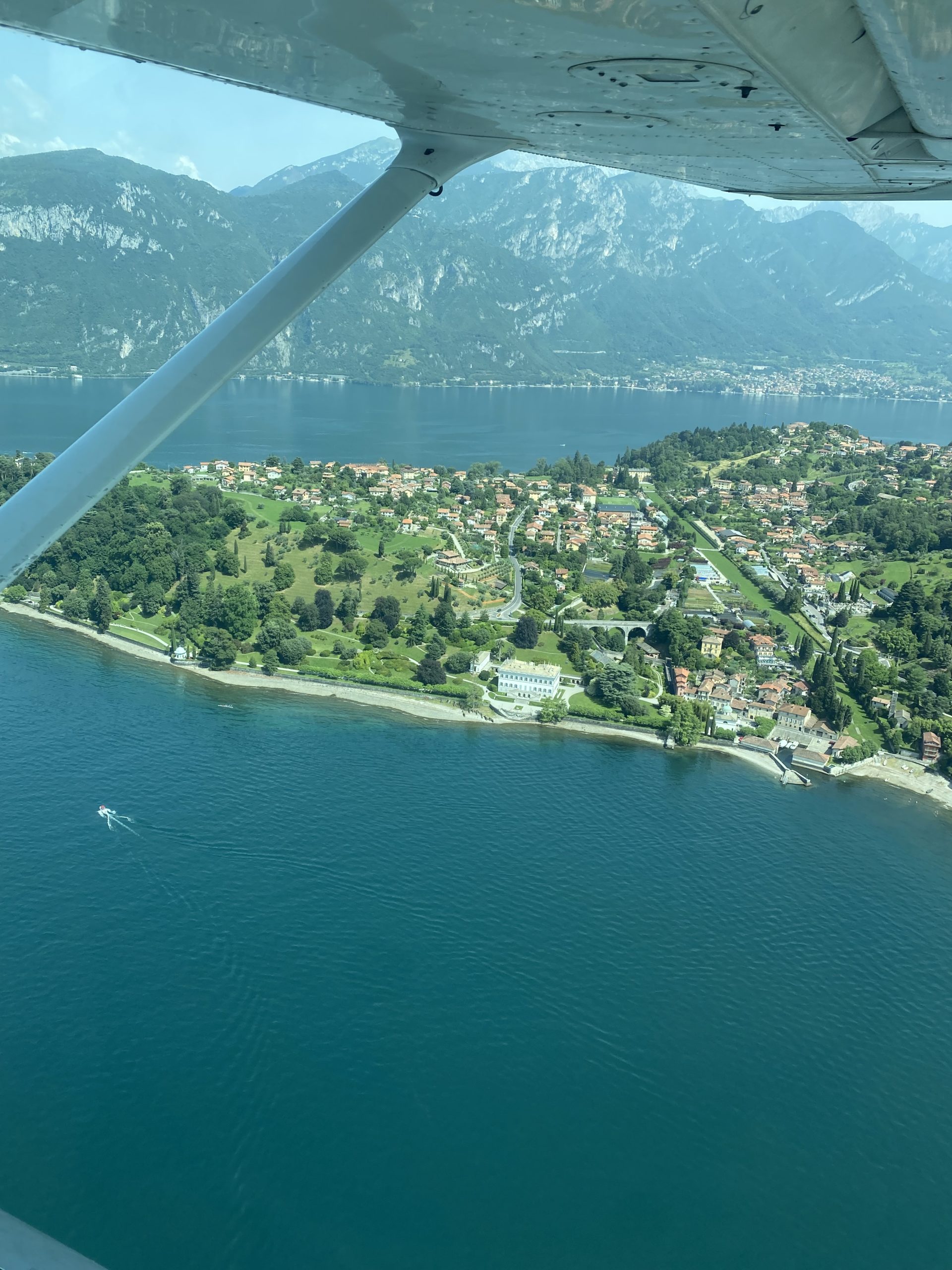 Photo: Over Bellagio in the club's 172. The Cessna on straight floats is a pleasure to fly and far better handling than the Husky.
Some places are like that, you can fly them a thousand times and they just get more interesting. Kinda like flying over the Hudson river and Manhattan skyline for me. 
 Lake Como is an incredible place to fly and always brings pure joy…just never gets old. 
"You're smiling like a little boy in a candy store.", my girlfriend commented recently. 
"Of course, because I am."
If you decide to train at the Aero Club Como ask for Matteo and tell him Brandon sent you. 
Featured Image: Author in one of the club's 172's on straight floats after a flight. Always pump the floats before takeoff!